The Port of Colombo lies on Sri Lanka's southwestern shores on the Kelani River. With one of the world's biggest artificial harbors, the Port of Colombo handles most of the country's foreign trade and is a major Indian Ocean seaport. In 2001, over 642 thousand people lived in the Port of Colombo.
As the commercial center of Sri Lanka, the Port of Colombo contains head offices of both foreign and local banks, insurance companies, government offices, and brokerage houses. Manufacturing is based on processing raw materials for export through the Port of Colombo. Some of the leading industries in the Port of Colombo are makers of jewelry, chemicals, glass, textiles, leather goods, cement, and furniture. The Port of Colombo is home to South Asia's second tallest building and the center for many commercial interests.
The Sri Lanka Ports Authority (SLPA) was established by Parliament in 1979, and it administered and operates all commercial ports in Sri Lanka, including the Port of Colombo. Being Sri Lanka's premier port, the Port of Colombo has been the focus for all port development efforts in Sri Lanka since the SLPA was formed. The government has since decided to develop regional ports as well, and the SLPA is now working to develop the Ports of Galle, Trincomalee, Kankasanthurai, Point Pedru, and Hambantota.
The Port of Colombo's Jaya Container Terminals are located at the western and northern entrances to the port. They cover 130 hectares of land and 70 hectares of water surface. They contain four main berths and two feeder berths. The quays are a total of 1292 meters long with an additional 350 meters of feeder berth quay at dredged depths ranging from 12 to 15 meters. The quays are equipped with Panamax and Super Post-Panamax quayside container cranes and rail-mounted gantry cranes.
The Jaya container terminal areas in the Port of Colombo cover 45.5 hectares and contain stacking capacity for 44.1 thousand TEUs of dry containers and 1.5 TEUs of reefer containers. The Container Freight Station area covers 15 thousand square meters. State-of-the-art computer systems maintain effective and efficient management practices and real-time yard use planning and operations.
The Port of Colombo's Unity Container Terminal has two container berths and one multi-purpose berth dredged to depths from 9 to 11 meters. The terminal has 590 meters of quay and 1.5 hectares of container terminal area with stacking capacity for 8 thousand TEUs. The terminal is equipped with three quayside container cranes and 50 terminal tractors.
The South Asia Gateway Terminals at the Port of Colombo have a total of 940 meters of berths with alongside depth of 15 meters. The terminal covers 20 hectares of total area and offers 12 hectares of stacking area, including 540 reefer slots with capacity for 1620 TEUs.
The Port of Colombo offers a total of 6245 square meters of bonded warehouse including 125 square meters of cool room. These warehouses are equipped to accept all types of goods except dangerous or perishable goods. Twenty-four-hour security service is provided, and small processing services for re-export cargoes are available at Warehouse BQII.
The Port of Colombo South Harbor Development Project is planned to be located west of the current southwest breakwater. Covering about 600 hectares, the new development will contain four terminals, each over 1200 meters long with alongside depths of 18 meters. In the future, the Port of Colombo may deepen the berths to 23 meters for deep-draft vessels. The South Harbor channel will be 560 meters long with a depth of 20 meters and a harbor basin depth of 18 meters with a 600-meter turning circle.
In 2008, the port commenced a large-scale expansion project at a cost of US$1.2 billion, which is expected dramatically increase the port's capacity and capabilities. The project, which is headed by the Sri Lanka Ports Authority and built by the Hyundai Engineering & Construction Company, is expected to be completed by 11 April 2012.
The expansion project will consist of four new terminals that are 1200m in length and can accommodate 3 berths each, alongside a depth of 18 m (59 ft) (which can be deepened to 23 m (75 ft)). The channel width of the harbour is to be 560m and depth of 20m, with harbour basin depth of 18m and a 600m turning circle. Once completed, it will increase the annual container handling capacity from 4 million TEUs to approximately 12 million TEUs. It will also be able to accommodate larger container vessels, carrying around 12,000 TEUs.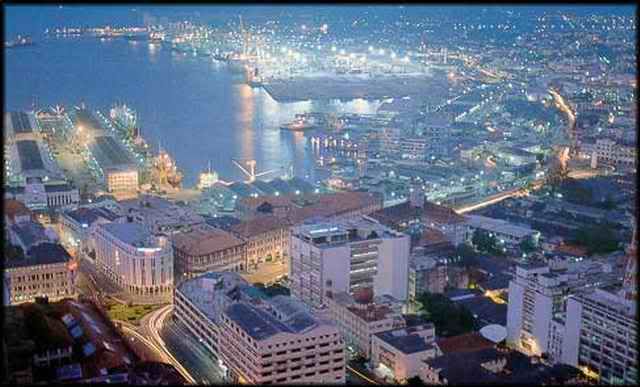 The first terminal was awarded to the China Merchants Holdings (International) - Aitken Spence consortium on 16 September 2010. The new terminal is planned to be operational by First Quarter 2013.