The Port of Ningbo lies on the coastal plain on the Yong River about 25 kilometers upstream from the Hangzhou Bay, about 154 kilometers south of the Port of Shanghai. It has long been a port, and it has an outport on the western estuary bank that was a fishing port. It is south of the Bay and faces the East China Sea, separated from Zhoushan by a narrow waterbody.
Once famous for producing traditional Chinese furniture, the Port of Ningbo dates as far back as the Hemudu culture of 4800 BC. In 1986, Chine designated the Port of Ningbo one of its national historic and cultural cities. It contains the oldest library building in China with a collection of rare books dating to the 11th Century. In 2007, the metropolitan area was home to over 1.9 million people.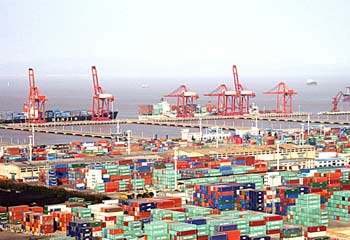 The Port of Ningbo became an independent prefecture under the Ming Dynasty in 738. Under the Southern Song Dynasty, it was promoted to a superior prefecture in 1195 called Quangyuan. In 1381, it became the Ningbo superior prefecture, a status it maintained until 1912 when it was demoted to county status with the name of Yin Xian. In 1949, it was separated from the county to form the modern city of Ningbo.
The Port of Ningbo was a convenient port for Korean mariners in the late 5th Century, making it an important port for eastern China. Even when official relations with Korea collapsed in 838 AD, large-scale private trading continued.
The Port of Ningbo was a center for coastal trade in the early 11th Century, and its position became more pronounced in 1127 when the South Song capital was established at Hangzhou and overseas trade began to flow through Ningbo. The Port of Ningbo grew rapidly and became rich from the 10th to 13th Centuries.
The Port of Ningbo suffered a setback when the Ming Dynasty limited trade and forbade the construction of ocean-going vessels. Due to frequent attacks by Japanese pirates, the city became an important defensive base. Its growth slowed through the latter 15th Century.
Portuguese trading began in 1545 in the Port of Ningbo, and British and Dutch merchants soon followed. Port of Ningbo merchants were also trading with Manchuria in northeast China, Guangzhou (Canton), the Philippines, and Taiwan. Ningbo became an important commercial center for the coast and an outport for the Yangtze River Delta.
With the construction of the Zhedong Canal, the Port of Ningbo took on a role as an important economic and commercial center for China during the 17th and 18th Centuries. Although it was opened foreign trade to 1843, trade for the Port of Ningbo slowed as nearby Shanghai grew in importance.
Today, the Port of Ningbo is a local commercial center and a regional seaport that can accommodate three-thousand ton vessels. In 1979, a large passenger terminal was opened to serve the regular passenger service to Shanghai. In 1984, Ningbo became one of China's open cities, inviting foreign investment.
In 1985, a new deep-water seaport, Beilun, with container facilities was opened as part of the Ningbo district. In 2008, the new Hangzhou Bay Bridge, one of the longest in the world, was opened to add a new direct link to the existing rail and road links to Shanghai.
Since World War II, the Port of Ningbo has seen the expansion of the textile industry with dyeing and textile plants, yarn-spinning mills, and knitting factories. Food processing is an important part of the city's economy, and it has a major shipbuilding industry that builds fishing vessels.
Modern Port of Ningbo is a hub for transportation of junks, and it is a collection center for agricultural products from the region, local fisheries, and timber from inland. It is an important distribution point for coal, textiles, consumer goods, and oil. Factories make diesel engines, generators, machine tools, petrochemicals, and agricultural and other machinery. The Port of Ningbo's thermal-power stations generate electricity for the whole region.
The Port of Ningbo (Chinese) is a deep-water port that includes estuary, inland, and coastal harbors. It contains 191 berths, including 39 deep-water berths. The crude oil terminal can handle 250 thousand tons, and the ore-loading berth has capacity for over 200 thousand tons of ore. One specialized terminal is dedicated to handling containerized cargoes, and one is dedicated to liquid chemical cargoes.
The Port of Ningbo includes five port areas: the old Ningbo port, Belieum, Zhenhai, Daxie, and Chuanshan. Its major activities are cargo-handling, warehousing, container logistics, and handling of iron ore, liquid chemicals, crude oil, and coal. The Port of Ningbo boasts China's most modern ultra-deep-water berths.
In 2004, the Port of Ningbo handled over 100 million tons of cargo, making it one of the largest ports in the world by volume. In 2005, cargo surpassed that, with 268 million tons of cargo passing through its berths, making it the second busiest port in China. Container throughput exceeded 200 thousand TEUs, ranking fourth of China's ports and one of the top 15 world container-handling ports.
With a natural protected harbor, the Port of Ningbo is sheltered from strong wind, waves, ice, and silting. Its entry channel is more than 30 meters deep, with its shallowest point being 18.2 meters. Vessels up to 250 thousand DWT can navigate the port at any time, and vessels of 300 thousand DWT can enter or leave at high tide.
The Port of Ningbo contains world-class container terminals. The berths are a total of 4465 meters long with alongside depth from 13.5 to 17 meters. With 147 sea-going container routes passing through the Port of Ningbo, the port receives 670 container vessel voyages per month.
The Port of Ningbo plans to further develop its deep-water facilities, particularly for container traffic. The new facilities will incorporate state-of-the-art technologies and principles of sustainable development. By 2010, the Port of Ningbo hopes to have capacity to handle 350 million tons of cargo and 11 million TEUs of containerized cargo per year.
Passengers have many options for catching a ship to Shanghai, Potuoshan, Dinghai, Taohuadao, and other destinations. The Port has three transport stations for passengers, each of which is linked to local bus routes, and regular schedules traveling several times a day.
Visitors to the City of Ningbo will want to check out the city's main attractions. Tian Yi Square is the main square and shopping mall for residents. With many shops and superstores, the Ningbo Tian Yi Square houses designer stores like Dunhill and Burberry, and visitors will find familiar Western food services like Pizza Hut and Starbucks.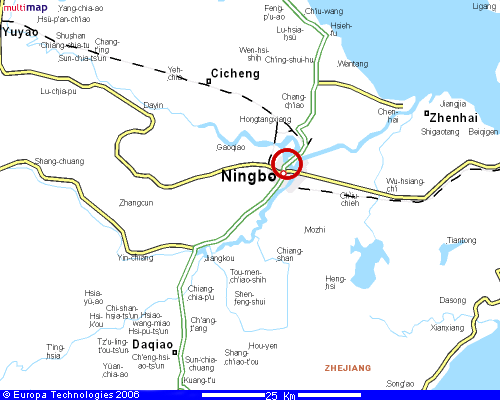 Moon Lake, the city's main park, was dug in 636 AD. The park covers almost 97 hectares of water and land and contains gardens and walkways. At almost 1400 years old, Moon Lake contains many old buildings and pavilions. It's a great place for a quiet walk, a picnic, or a little spin in one of the paddle boats.
The 16th Century Tian Yi Library is a garden pavilion. Near Moon Lake, it is the oldest surviving library in China. It houses items from the 11th Century, including woodblock and hand-written copies of Confucian documents. Some of the library's gardens and out-buildings contain displays of old tablets and books. The gold-plated wood-paneled buildings and the pool and rockery give the library grounds an atmosphere of quiet seclusion.
The Lao Waitan is the city's popular district for nightlife. On the Yong River bank next to the Yongjiang Bridge, this new city district is growing quickly with new businesses. In the old days, it was the Port of Ningbo's foreigner district, and it is next to a French Gothic style church from those days. Visitors will find many international restaurants here and may get a chance to enjoy the fire and water show on the boardwalk.